It's a myth that most cats will find their way home.
The most significant findings of a recent study were that a thorough physical search is likely to increase the chances of finding cats alive and most cats are found within a 500 m (1/3 mile) radius of their point of escape. Cats that were indoor-outdoor and allowed outside unsupervised traveled longer distances compared with indoor cats that were never allowed outside.
From: https://www.cats.org.uk/help-and-advice/lost-found-and-feral-cats/lost-a-cat and from https://www.ncbi.nlm.nih.gov/pmc/articles/PMC5789300/
Five things to help find your lost cat
Shake a box of their favorite biscuits to entice them home.
If your cat has a favorite toy, try leaving it in your garden.
Cats have a strong sense of smell – leave out a regular blanket or bedding to encourage your cat out of hiding.
You might find your moggy is more active at night, especially during hotter weather. Go out with a friend or family member when it is dark to call for your cat by name.
Leave a bowl of water out and some food. A tasty treat such as tuna might be enough to bring your cat home.
Is my cat lost?
Not all cats are house cats. Some are inclined to wander, especially if there is fuss or food to be found elsewhere. It is normal for your cat to pop in and out throughout the day – especially if they have a taste for adventure. If your cat hasn't returned by the time dinner time comes around, however, you might be worried that your cat is missing. Try not to panic. Cats can disappear for days at a time and return with no trouble, looking perfectly healthy. While you might be worried, they're likely to stroll in and wonder what all the fuss is about. If they haven't yet returned, give them a few hours before you make a plan of action.
I've lost my cat. What can I do?
If your pet still hasn't returned home, there are a few simple things you can do to help find your missing cat. The first thing to do is to check your own home and garden. Cats love small cosy spaces and might be hiding in the unlikeliest of places – from cupboards to garden sheds. Check every room in your house, including any outbuildings and sheds too. Behind curtains, under duvets and even in household appliances like tumble dryers and washing machines. If you're having building work completed, check under floorboards or any holes big enough for a cat to nestle into.
If you're sure your cat isn't at home, the next thing to do is to speak to your neighbors as well as any delivery people nearby. They might have seen your lost cat somewhere and can let you know of their whereabouts. Ask them to check their own sheds and outbuildings, as well as under any parked cars in the neighborhood. Remember to check homes on both sides of the road, as well as homes that have gardens that back on to yours. You could even provide neighbours with an up to date photo and your cat's name, reminding them to keep an eye out.
Advertising on social media is a great way to get the message out that your cat is missing, particularly if you're a member of a local Facebook community group. Post a clear photo of your cat, their name and your contact details.
It is also useful to keep a list of useful phone numbers pinned to a board in your kitchen. You can download our list below, complete with handy contact details.
How do I get my cat to come home?
If putting out the word about your missing cat hasn't worked, there are some great tips and tricks to try at home. Cats are heavily reliant on scent and leaving out items that may entice them back to you is well worth an attempt. Things to try include the following:
Leave your cat's favorite toy or some of their unwashed bedding in the garden
Leave an unwashed item of your clothing, which will have your scent on it
Place any used litter from your cat's litter tray outside, or perhaps the contents of your hoover for a smell of home
Call out for your cat in the garden early in the morning or late at night, when everywhere is likely to be quieter
Shake a box of their favorite biscuits or treats
Keep calling your cat, leaving enough time for them to hear you and be led home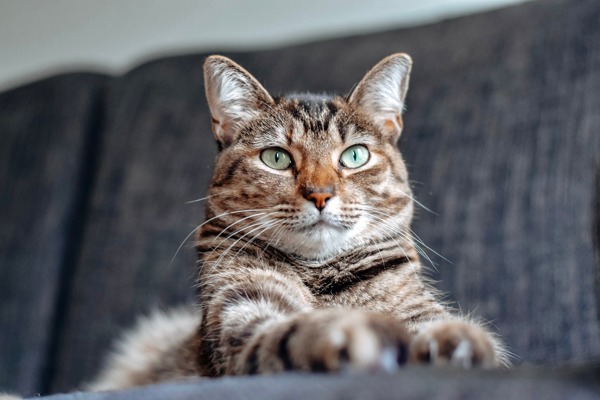 Lost your cat? Follow our checklist
If you're beginning the search for a missing cat, download our checklist to tick off each action as you do it.
Search first. Check small spaces in your home – everywhere from cosy cupboards to garden sheds, garages and outbuildings
Ask your neighbors. They'll need to check their property, sheds and garages too.
Is your cat microchipped? Talk to Petlog on 01296 737 600 or Identibase on 01904 487 600 to register your cat as missing
Speak to your local Cats Protection branch or centre to see if they've had a cat handed in to them. To find one in your area, visit our Find Us page and enter your postcode
Get in touch with animal shelters in your area. Visit catchat.org to find those local to you
Contact all vet practices in the area
Make and put up flyers with your cat's photo and description to place around the local area – or post them through your neighbour's letterboxes
Post a description of your cat on your Facebook page, as well as any local community Facebook groups

Microchipping your cat
Microchipping your cat is the most effective way to ensure that they can be identified if they go missing, and keeping your details up to date can increase the likelihood of a happy reunion. If your lost cat is found and taken to a vet or animal welfare organisation, you'll be contacted quickly.
Moved house or changed a phone number? You'll need to let your microchipping company know so that your details that are on file can be amended.Find out more about microchipping your catDownload: Microchipping guide