Published 03-04-22 Submitted by America's Charities
A personal note from Carolyn Cott, co-director of UntoldAnimalStories.org: I had the honor of working as a freelance writer for three years for Humane Society International. They are a credible organization with an excellent track record of success helping animals worldwide. Please consider contributing to their work for the animals impacted by the war.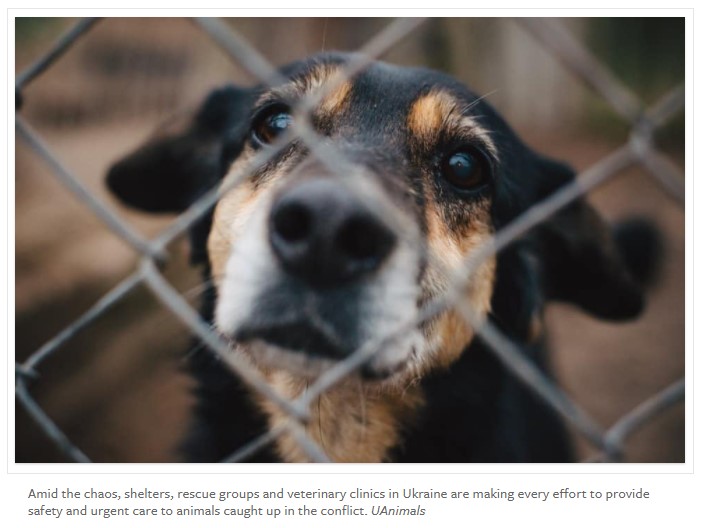 Amid the conflict in Ukraine, shelters, rescue groups and veterinary clinics in Ukraine are trying to keep their operations going, making every effort to provide safety and urgent care to animals caught up in the conflict. Relief workers and organizations are also doing all they can to clear the way for emergency entry into neighboring nations for Ukrainians with pets. 
Thanks to the kindness and generosity of Humane Society International (HSI)'s partner, family-owned Mars, Inc., HSI is in a position to respond right away to the needs of Ukraine's animals and those seeking to help them. In previous collaboration with Mars, Inc., a worldwide COVID-19 relief effort, HSI was able to help more than 280,000 animals in 36 countries on five continents, providing desperately needed food, veterinary care and other support. 
With no time to waste, HSI is prioritizing support to shelters, rescue groups and veterinary clinics in Ukraine. It is vitally important to sustain these institutions in their efforts to maintain operations and services. In many cases, they are helping individuals and families who cannot flee but are trying to hold onto and care for their pets and other animals. In addition, some groups are caring for animals on the streets. The demands and needs of the moment are substantial and will continue to be significant in the future.
To assist these organizations, HSI is collaborating with a partner in Ukraine, UAnimals, to assess and prioritize the needs of shelters and clinics actively engaged in relief. HSI in Germany is working with Berliner Tiertafel to provide refugees with pet food and necessary supplies for their animals as well as veterinary care if needed.
HSI is also planning to support animal groups in neighboring countries such as Poland and Romania as they assist refugees arriving from Ukraine with their pets. The groups trying to provide relief are going to need food, carriers, medicines and critical supplies. 
The same is true for zoos and wildlife rescue centers in Ukraine, and HSI will do their best to help them meet their needs, too.
Read more here about HSI's plan for taking action and make a donation to support their work. CLICK HERE TO HELP: https://blog.humanesociety.org/2022/03/heres-how-were-taking-action-for-ukraine-and-its-animals-and-how-you-can-help.html
If your company has a workplace giving program, please consider featuring Humane Society International as a charity to support alongside other Ukraine crisis relief funds.